GST Council prepones meet to October 6
The meeting that will be held will be a video-conferenceing meeting.
जीएसटी और बैंकरप्सी कोड से भारत में बढ़ेगा एफडीआई: मूडीज
Exporters urge government panel to speed up GST refunds
GST : Small Traders/Manufacturers/Restaurants can now opt for availing the Composition Scheme till September 30, 2017 @askGST_GoI
छोटे व्यापारियों /निर्माताओं/रेस्तराँ अब आप कम्पोजीशन स्कीम का विकल्प 30सितम्बर 2017 तक चुन सकते है और 1अक्टूबर2017 से इसका लाभ उठा सकते है |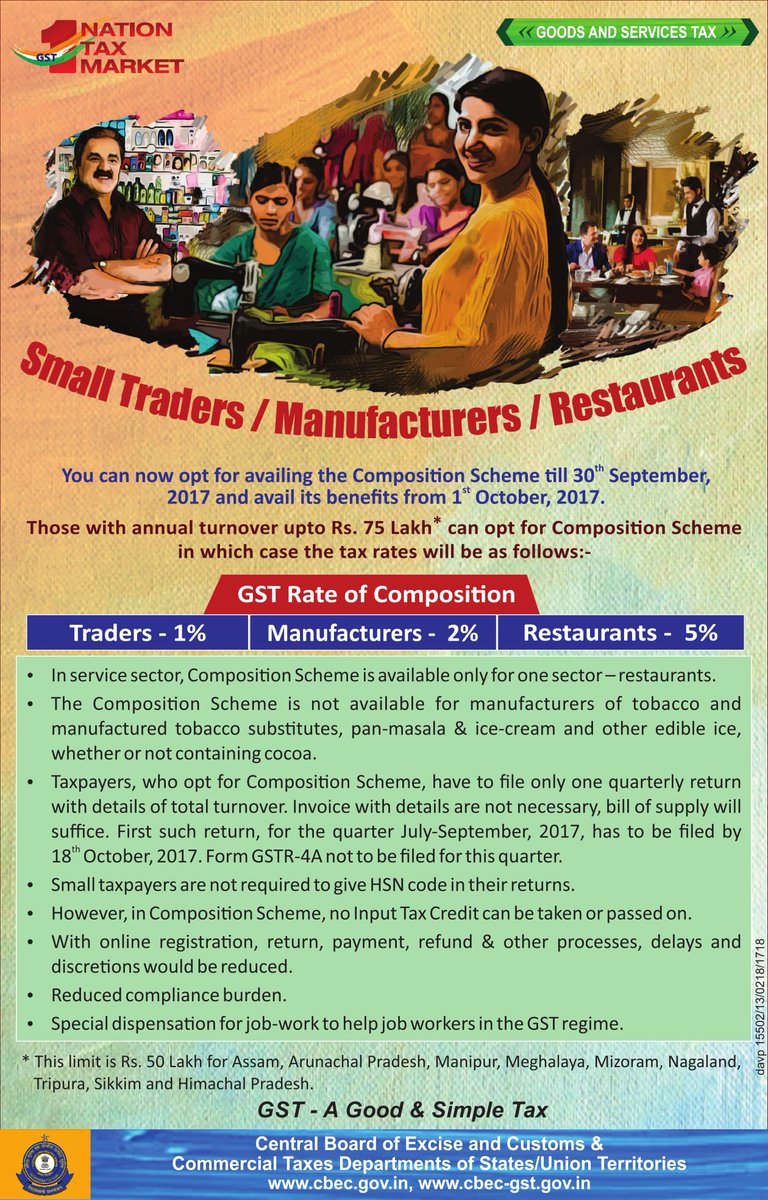 SEBI board approves amendments to REIT(real estate investment trusts ) and InvIT(infrastructure investment trusts ) Regulations :
1. SEBI decided to allow REITs and InvITs to raise debt capital by issuing debt securities.
2. The REIT Regulations prescribe that a REIT shall hold atleast two projects and not more than 60% of the value of its assets shall be held in a single project. However, no such stipulation exists under the InvIT Regulations. It has now been decided to allow single asset REITs on similar lines as InvITs
1) How to identify register or unregister dealer?
Register dealer should print GST number on their bill.
2) How to identify if they printed Fake GST number?
You can verify GST number in this link:
https://services.gst.gov.in/services/searchtp
3) What are the GST rates to restaurants?
– For non-AC/non-alcohol serving hotels, it is 12%
– For AC/alcohol-serving hotels, it is 18%
4) Is 'Service Charge' mandatory in restaurants?
– As per govt. guidelines, You can refuse to pay the 'service charge' that restaurants put on your bill if you are unhappy with the service.
– It is totally voluntary and not mandatory.
– If a restaurant insists on customers paying the service charge, you can file a complaint in consumer court
5) In case of GST Fraud, where should we file complaint?
a) Register your complaint on http://consumerhelpline.gov.in/ ; or
b) Call 1800114000 or 14404 or SMS on 8130009809
c) Email – [email protected] , [email protected]
d) GST portal – [email protected] , 0120-4888999, 011-23370115
e) Twitter handles- @jagograhakjago @consaff @askGST_Goi
Give some Likes to Authors